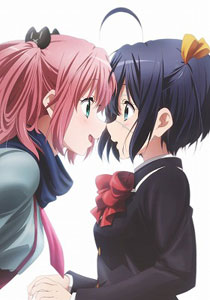 The official website for Chuunibyou Demo Koi ga Shitai announced on Thursday that at least the first Blu-ray Disc/DVD volume will include an unaired short movie on March 19, 2014.
The volume will also have two television episodes (for a total of 48 minutes), the web version of the preview videos, the clean opening and ending animation sequences, teaser video footage, cast and staff commentaries, and Japanese subtitles. The first bundled copies will come with a 24-page full-color special booklet, an illustrated cardboard, exclusive character cards with the eyecatch art, and Digipak packaging with a three-sided case.
The rest of the seven monthly volumes will ship between April 16 and September 17.
Sources