High School freshman Yuuta Togashi was once a "chūnibyō patient" i.e. an overly self-conscious middle schooler. He wants to bury this embarrassing past and begins a new life in high school -- unsuccessfully. His classmate Rikka Takanashi , a "current" chūnibyō patient, has found traces of residual symptoms on him and used the fact to force Togashi in "making a contract" (dating) with her.
Who is your favorite Character?
Feel free to contribute by adding pages and relevant topics!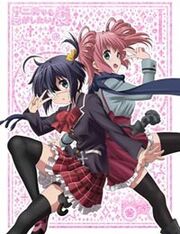 North American anime licensor Sentai Filmworks have revealed two new teaser videos for their upcoming English dubbing of Chuunibyou demo Koi ga Shitai!, or Love, Chunibyo & Other Delusions! in English. The dub itself will be featured with the release of the collectors edition of Love, Chunibyo & Other Delusions! on DVD and Blu-ray, which will contain: all 12 episodes of the 2012 anime and its OVA, an eye patch similar to the one worn by Rikka Takanashi, various stickers based on the series,a keychain, a massive 152 page booklet that contains art and character information, audio commentary with the Japanese staff and crew, all the web shorts, all released promotional videos, and textless versions of the OP and ED.
Affiliates
If you want to affiliate with the Chuunibyou Wiki, please contact an admin.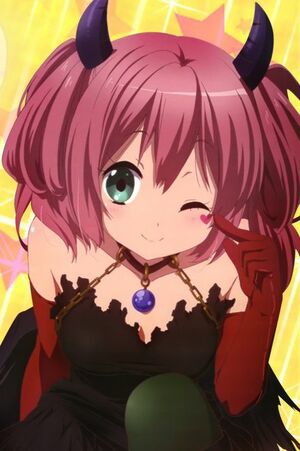 Satone Shichimiya (七宮 智音 Shichimiya Satone) was Yuuta Togashi's middle school classmate. Although she considered Yuuta to be her only true friend, she ended up transferring schools without saying goodbye during their second middle school year. She suffers from delusions and calls herself "Sophia Ring SP Saturn VII" (ソフィアリング・SP・サターン7世) Read more...

What do you think of the new Wiki design?